Bulk Barn has so many great things for birthday parties. It will make your life easier, I promise.
I wanted to show you pictures of all the great things at Bulk Barn, but the manager said that photos are not allowed, even if you promise you will be nice and hardly anyone reads your blog anyway.
Luckily, I am very talented, and I have created artistic renderings of the store's highlights.
First, you can RENT cake pans at Bulk Barn! This is brilliant. I mean, how many Dora cakes are you going to bake in your lifetime? They need a $20 deposit, but the cost is only $1.99 per day. They have TONS of options, including Spider-Man, Lightning McQueen, a pirate ship, and Dora (shown below).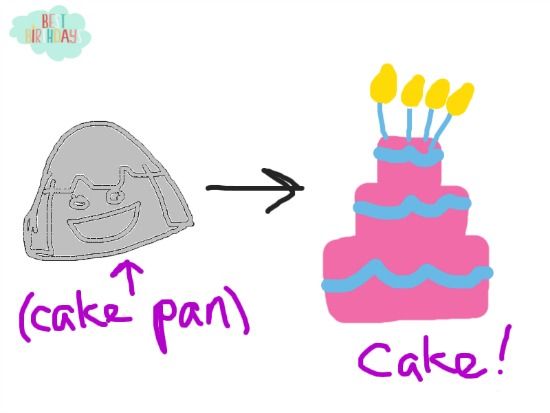 That's a Dora cake pan. I'm sure you can tell.
You'll need some candles to stick on top of that cake, and Bulk Barn has those too. They have regular candles, sparkly candles, and molded character candles like Spider-Man or Hello Kitty. I like the latter because I'm too lazy to bake a theme cake. I buy a regular cake, then stick themed candles on top instead.
Finally, Bulk Barn has a million kinds of sprinkles and coloured sugar. The grocery store never has the colour I want, but Bulk Barn has ALL the colours. They have a giant sprinkle bar stocked with bins of sprinkles and coloured sugar, like so:
If you are making cakes or treats, you will love Bulk Barn. And now that I have created this extremely accurate illustrated guide to their store, you will know exactly what to look for.
Full disclosure: I obviously received no compensation from Bulk Barn for this review.