One-year-olds are really hard to buy for. They are too big for "baby" toys, but too small for "toddler" toys. So what are the best presents for a one-year-old? Here are my picks!
1) Ball Pit
Sam of
Thrive 360 Living
made a brilliant
ball pit from an inflatable pool
. I stole her idea at Christmas. The instant my son (13 months old) saw it, he literally threw himself into it. He barely got out for the next three days. My house is too messy to take a photo, but here is Sam's:
This also led to my own stroke of genius: a crib ball pit! My kids thought this was pretty awesome.
Xylophones are everywhere, but this one from Etsy stands out because of its cool shape. Babies will love creating music with a stirring motion, and you will love that this thing can double as art on your shelf.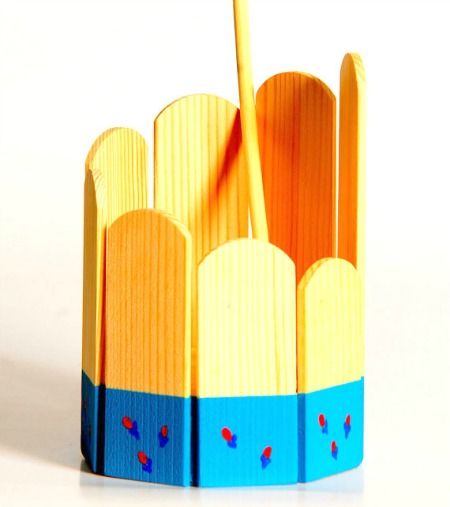 3) Baby Dolls - for Girls and Boys
These are pricier gifts (I'm looking at YOU, Grandma), but the quality of the Corolle dolls is unbeatable. My son loves to play with the eyeballs on his - they open and close. And when my daughter was one year old, she would feed and rock her baby dolls. She's almost four, and she STILL loves them That's play value.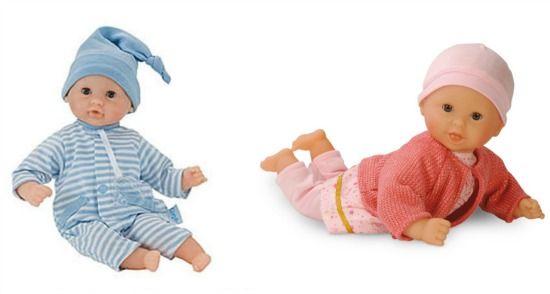 4) Double Rainbow Stacker
I like this stacker because babies can stack the shapes by colour, shape OR size. We have a stacker by a brand that I'll call Prisher Frice, which is angled so that there is ONE right way to get those darn rings on. My kids lose interest in that quickly. Bonus: this is pretty enough that you don't have to put it away. It's not mess - it's decorative!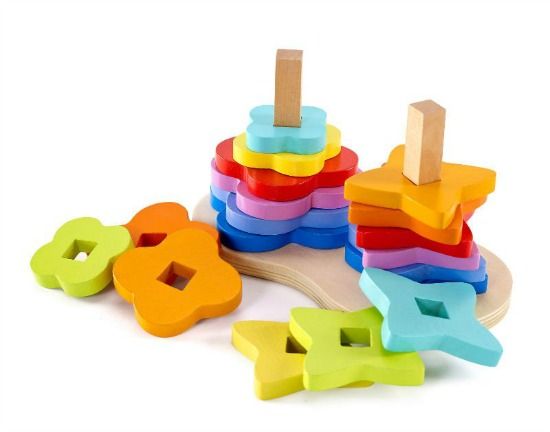 5)
Batman Teether
If your baby uses a Batman teether, he or she will get super powers. True story. Okay, maybe not - but your baby WILL be awesome.
6) Kidoozie Peek N Peep Eggs
I bought these years ago, and both of my kids LOVE them. When you press the chick, it peeps. And one-year-olds LOVE putting things into other things and taking them out again.
7)
Blocks
These blocks are particularly great because they are squishy. That means they will stick to each other just a bit, so you can make really cool structures. And even better - they're chewable!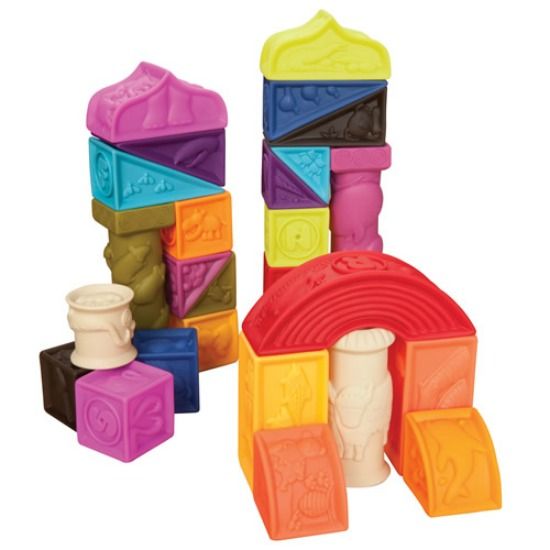 Books are always a good present. One-year-olds like to eat their books in addition to reading them, so stick to board books. Here are some of my favourite books for this age!
That's Not My ______ (Bear, Pony, Hamster, Princess, Baby, etc, etc, etc)
This series of Usborne books has a different texture to feel on every page, and the illustrations have heavy black outlines that appeal to little eyes. Babies LOVE them.
Grumpy Bird, by Jeremy Tankard
Bird wakes up grumpy. Too grumpy to do ANYTHING. Babies can RELATE, yo. The Grumpy Bird books are funny, and they have cool collage-style illustrations. I love them, and so do my kids.
Where is Baby's Mommy? by Karen Katz
Baby is looking for Mommy, and YOUR baby lifts big sturdy flaps to aid in the search. This is also a series - Baby loses a LOT of things. See also: Where is Baby's Birthday Cake, Where is Baby's Puppy, etc.
Want gift suggestions for kids, moms, dads, and teachers? I have them all
here!
Full Disclosure:
The Amazon links are affiliate links, and if I ever make money off of them, I will probably spend it on Amazon.